Our task was to take an existing brand with deep roots in the community and give it a completely new refresh that would better represent the company today and its plans moving forward.
One of these strategic plans was to change the local communities' perception of what philanthropy is and open it up to a younger audience that could potentially be operating with a lower income level than was commonly expected in the past. In doing so they were effectively breaking norms and setting new goal-posts in the industry, by making it more accessible to a wider audience where anyone can participate with almost any amount. No longer was philanthropy something only for the ultra-wealthy. (or at least that was the perception). The appeal is now to a much younger and larger audience in the Northern California area.
To accomplish our goal it took more than clean modern design, colors, and typography, we also had to take an overwhelming amount of content and reduce it to something that was more easily understandable, concise, and simple to navigate. In doing so we simplified the options and made a clear path for the user to become involved.
Logo Design
We begin all branding projects with the most important and recognizable identifier, the logo. The mark in this instance was designed with gender-neutral colors and font pairings that communicate a friendly and approachable feeling to a wider and much younger audience.

Business Cards
The initial interaction with a brand is important to shape the user's perception and can make or break a relationship going forward. Since it's the business card that often facilitates the initial physical experience with the brand, it was designed to take the user on the next step by incorporating all of the branding identifiers along with three concise words highlighted with the use of typography, colors, and icons that reinforce the essence of what the foundation does. We also had these cards printed on amazing "soft-touch" coated paper that left the potential new customer with a memorable experience and something that was not likely to be thrown away if not immediately acted on.
Website Design
The ease of use and functionality is essential to balance with a clean and unique design that's not only attractive but leads the user on a clear path. Every piece of the brand is essential, but the website is often the biggest part because it's the digital representation of the entire company, and contains all critical information to the user. Structuring content and reducing it to the core message is the best way to convey the essence of the company within a small window of attention.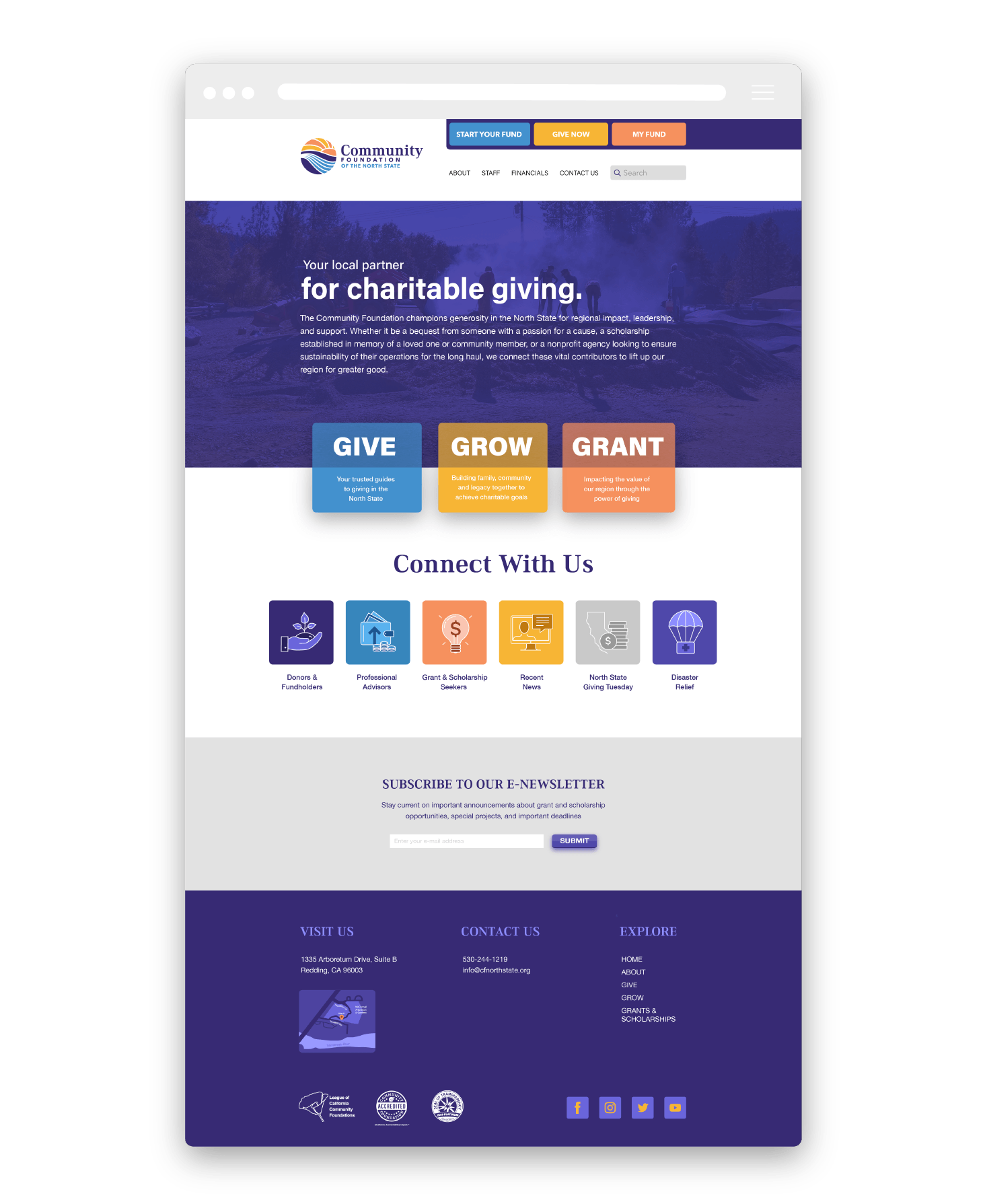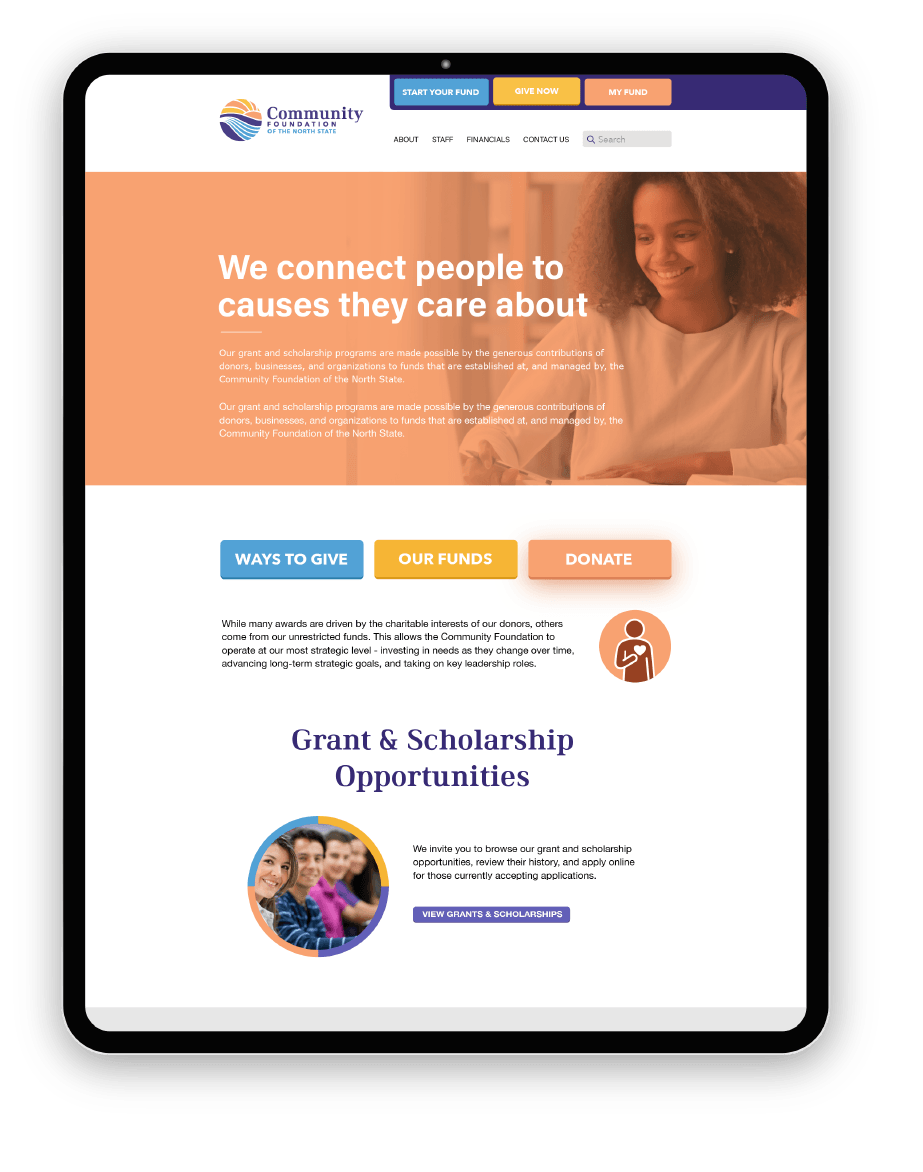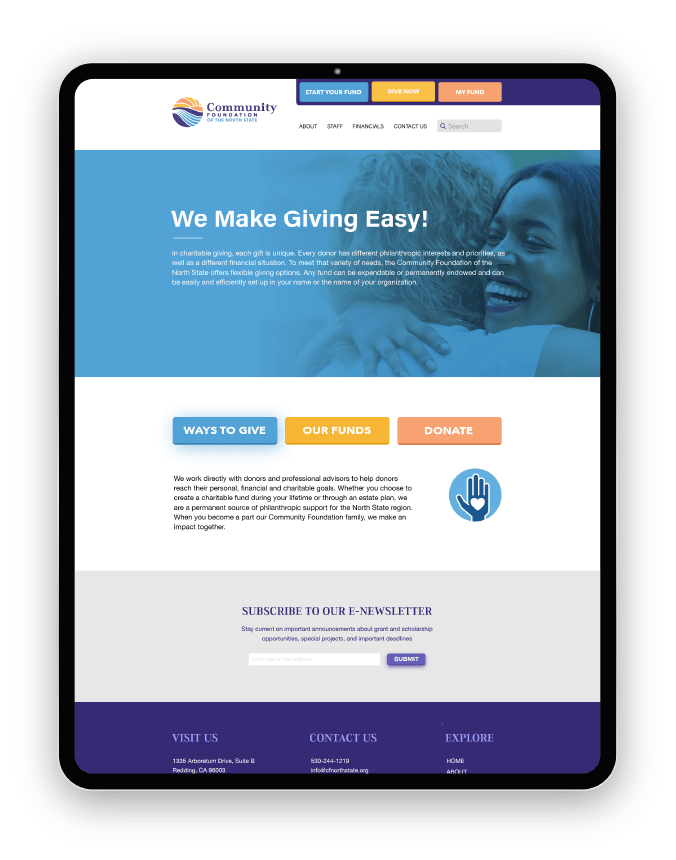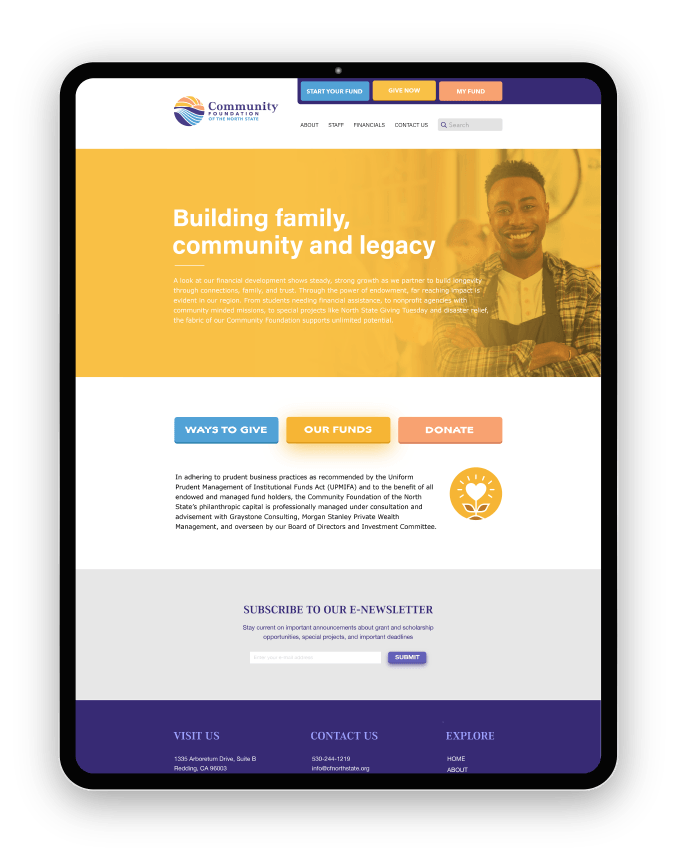 Rack Cards & Pull Up Banners
Every aspect of a company's marketing material will shape the overall perception of the brand. Providing effective visual communication in various mediums is key to a consistent brand experience both on and off-line. Print materials are still an effective marketing tool and remain an essential part of the overall brand experience. This is why having a high-quality print with deeply saturated colors and unique paper textures are all important aspects in accomplishing the goal of creating a consistent & memorable experience.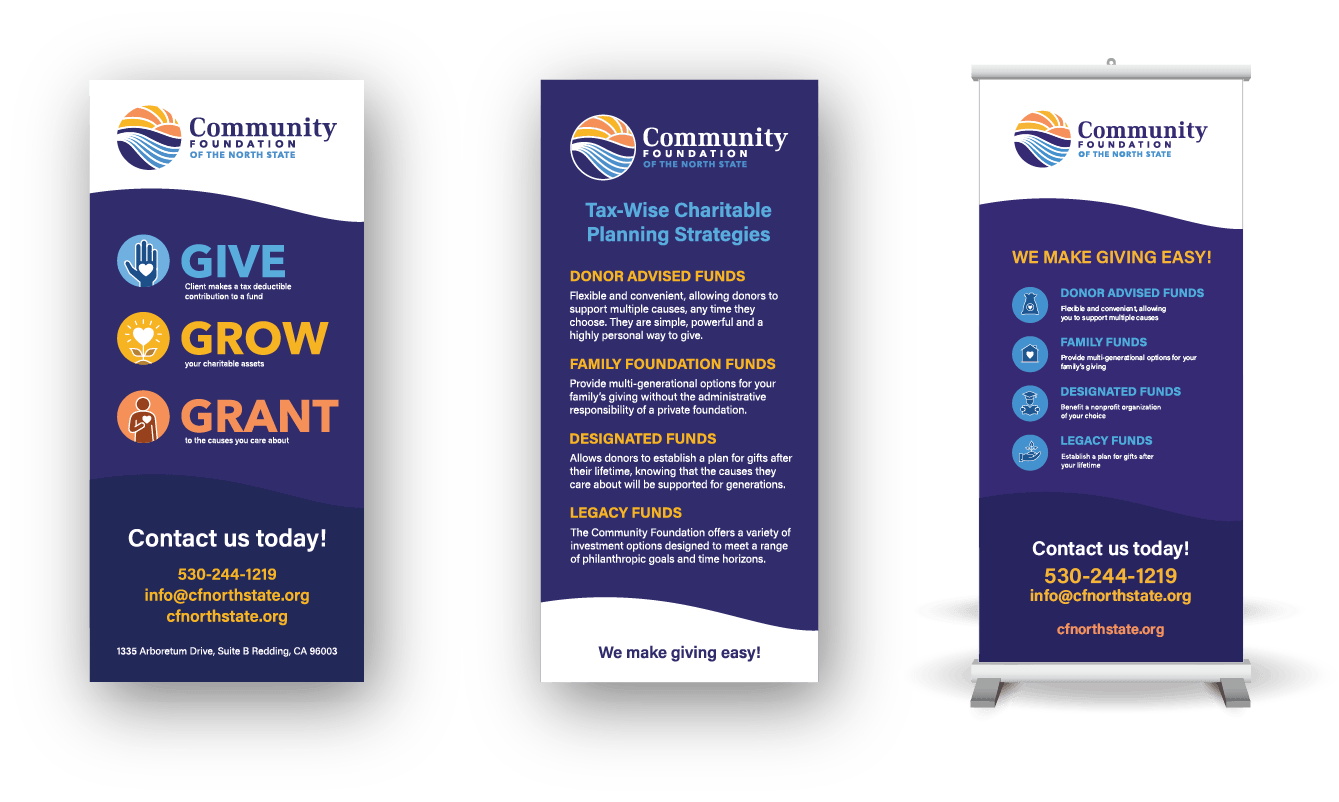 Folders for Marketing Collateral
These beautiful custom branded folders were designed to contain all of the foundation's marketing material for special events & investors. They were printed on the same amazing "soft-touch" paper mentioned above which gives the user an incredible and memorable tactile feel. This can often remain in the subconscious long after it's received and helps solidify the overall experience. It also sets the standard that one will come to expect from the brand and help maintain its perception as a trusted leader in the industry, while also remaining friendly and approachable to their users.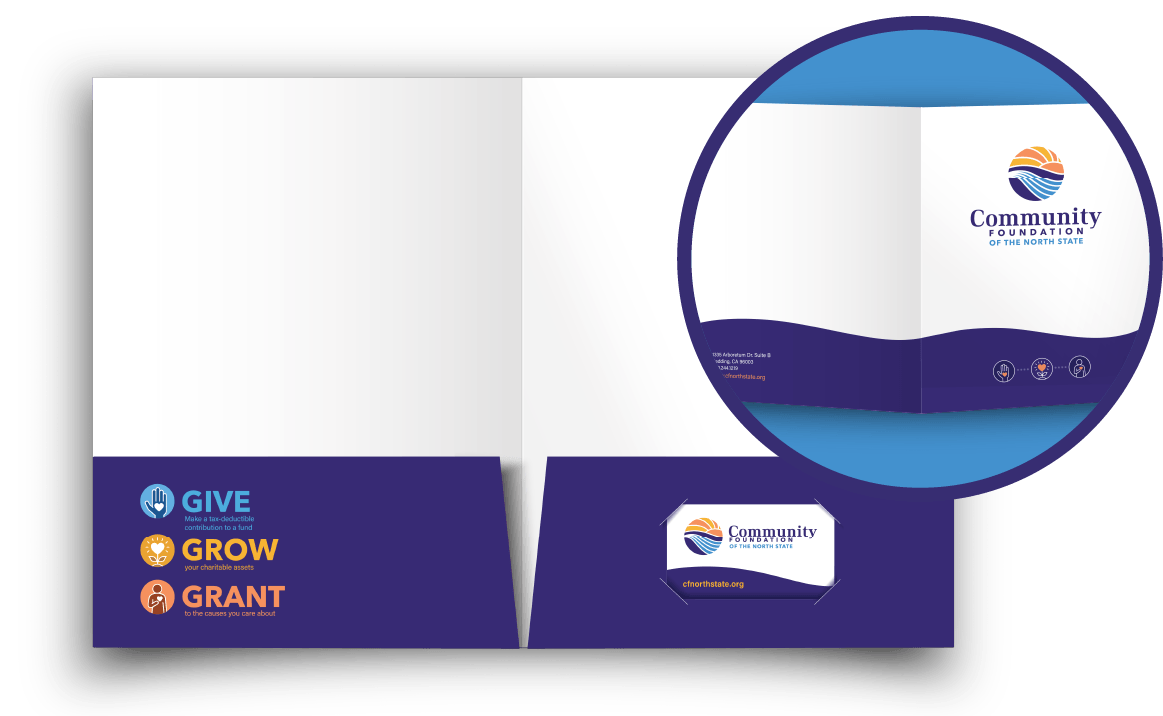 Branded Stationery
"Swag" as it's called has become an expected part of events, and for good reason! This is an excellent opportunity for any brand to further its reach and stay relevant in customers' minds, with minimal expense and effort. As with all other collateral, both on and off-line, consistency is key to maintaining the overall brand experience and recognition that customers have come to expect.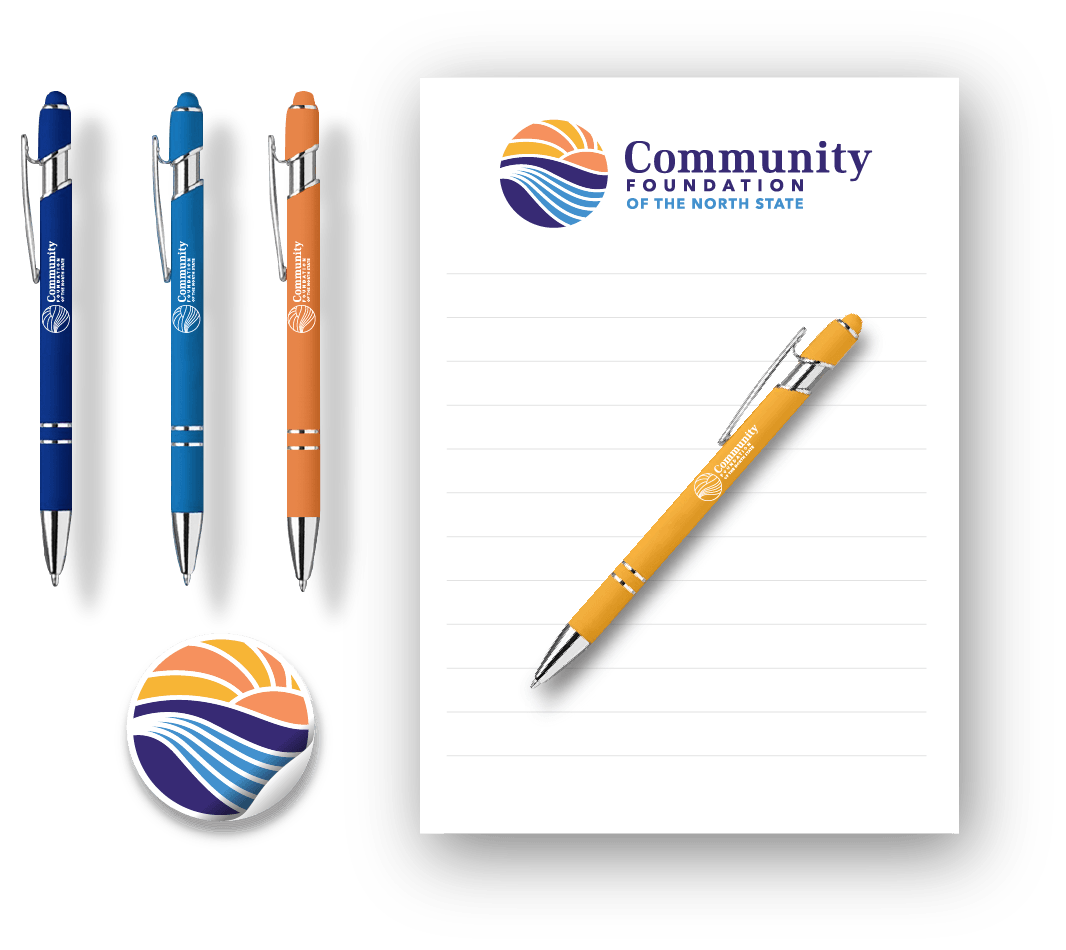 20th Annual Report
Being a key marketing piece for investors, the 20th annual report was essential to design in a way that adequately highlighted all of the 20 years of impact that the foundation has had on the local community. We successfully did this with key imagery, colors, icons, and condensed copywriting that beautifully showcased the companies successes over the years.